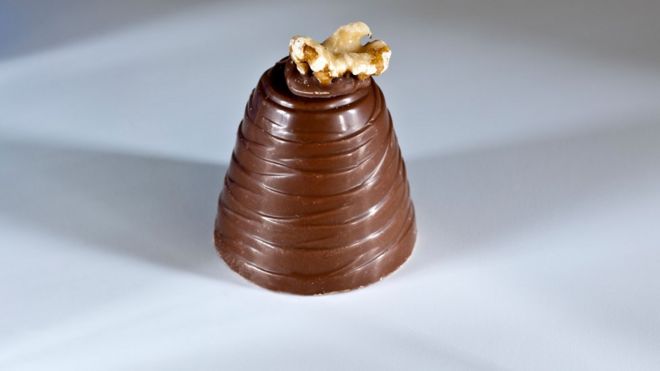 First it was Toblerone that shrank, followed by packets of Maltesers. But has the maker of the Walnut Whip gone too far in removing the famous nuts from a new version of the chocolate?
Nestle is launching three new varieties of the Walnut Whip - its oldest chocolate brand - without a nut on their peak.
The new Whips (without the Walnut prefix) will not replace the traditional walnut-topped version, which will still be available in a single pack year round - and a multi-pack at Christmas too.
"Walnut Whip remains on sale alongside our new vanilla, caramel and mint versions," a Nestle spokeswoman confirmed to the BBC.
"This means there is something for consumers wanting to try something new, as well as for long-standing fans of our century-old walnut product."
The new flavours reflected Nestle's desire "to extend the Whip range", she said.
However, importer Helen Graham said that strong global demand for walnuts, together with a poor crop in Chile last year and the falling value of the pound has led to a rise in prices of about a fifth.
She told the Guardian: "There was a shortage of crop and then there is the additional factor of exchange rates and rising transport costs as well."
The new products are being sold in packs of three with the walnut version remaining in its single packs.
http://www.bbc.co.uk/news/business-40947322
Got to be twirls that go next I predict!