French elections coming up in April and Marine Le Pen (a sort of Nigel Farage/Trump equivalent I guess) is in with a shout of winning and has set out her presidential election manifesto with a twin attack on globalisation and radical Islam.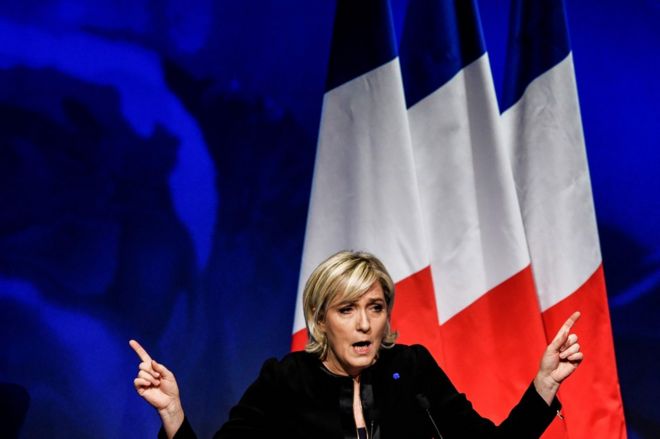 Arguing that the FN was the party of the French people, Ms Le Pen said she wanted a "free, independent and democratic country".
Globalisation, she said, meant "manufacturing by slaves for selling to the unemployed"
while the FN solution was a "local revolution" guided by "intelligent protectionism and economic patriotism".
She said the EU was a "failure" which had "kept none of its promises",
and she promised to renegotiate French membership
fundamentally, and would call a referendum on leaving
if the attempt failed.
Referring to the knife attack at the Louvre this week, she warned of the threat of radical Islam,
painting a dark picture of a France under the "yoke of Islamic fundamentalism" where women would be "forbidden to enter cafes or wear skirts"
.
France has about five million Muslims - the largest Islamic minority in Western Europe.
Earlier, FN deputy leader Florian Philippot predicted a new appetite for politics inspired by Brexit and Mr Trump.
"People are waking up,"
he told the audience in Lyon on Sunday.
"They see Brexit, they see Trump and they're saying to themselves: 'It's worth going to vote'."
http://www.bbc.co.uk/news/world-europe-38872335
Should be fun to watch!
Vive la France.