Thought this might help for some (mainly younger family members and friends as I expect many of us regulars on here have already had our first jab at least) with the 'worry' over the AstraZeneca jab and blood clots.
Basically if you are under 30 (and especially if you are female) then maybe you would be better off taking one of the other vaccines on offer, for all the rest of us it seems the jab is as safe as it can be and certainly better than not having one at all.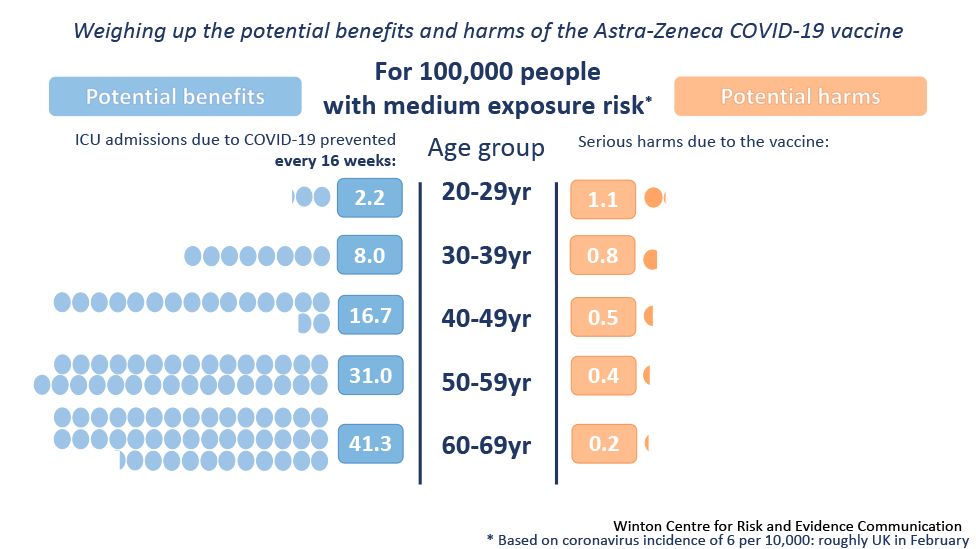 Analysis: Should we be worried about a one-in-a-million risk?

No treatment or vaccine is risk free. The key question is whether it does more good than harm.
Wednesday's update once again demonstrates the AstraZeneca vaccine does - even if you assume it's causing these clots, which has not been proven yet.
The risk of dying from one of them following vaccination is incredibly small - about one in a million.
By contrast, Covid kills one in eight people who are infected over the age of 75, and one in 1,000 infected in their 40s among those who develop symptoms.
It is less clear cut for those under 30, who are much less likely to die of Covid - although the AstraZeneca vaccine still presents more benefit than risk.
However, other vaccines may be an even better bet.
The risk might look worrying, but it is actually very low, and usually we don't think about things just in terms of risk.
For example, travelling 250 miles in a car also carries with it a one-in-a-million chance of dying in an accident. How many think about that when they get behind the wheel?
More of the article here -
https://www.bbc.co.uk/news/health-56665517
Fwiw I would advise my own daughter to take the offer of a jab but which is not the AstraZenica one as she is in the under 30 age group.
Also for anyone interested I got myself one of those free Coronavirus home test kits today by simply walking into the local chemist.
I had by chance walked passed it and thought I'd ask where and when I could get one of the packs that Boris told us about at the begining of the week only to find out they already had them in stock. I simply had to 'tick' two boxes on a form - my age group and why I wanted a pack (the box I ticked was 'other') and that was that!
Might be useful to pick one up for yourself or love ones (there are seven tests in the pack) if you (or they) plan on meeting up with folk who are at risk from Covid.
No harm being on the safe side testing yourself before you do - or indeed if the slipper is on the other foot - they test themselves before they visit you!