Posted at 10:2610:26
It's raining - toss delayed
Ah.
Don't you just love cricket...?
Posted at 11:5711:57
Lunch to be taken early
There's been a conference between the umpires, the coaches and the captains. It was a long discussion.
Lunch is going to be taken at 12:30 and then they will take another look at 13:10.
13:17
BREAKING
Play to start at 14:00 BST
I have word from the umpires...
If there's no further rain play will begin at 14:00 BST.
The toss will take place in 15 minutes at 13:30.
14:02
Post update
Are you ready? Pinch yourself, it's really happening.
Cricket is back.
Kemar Roach with the ball, Rory Burns on strike.
The world is watching.
Here we go...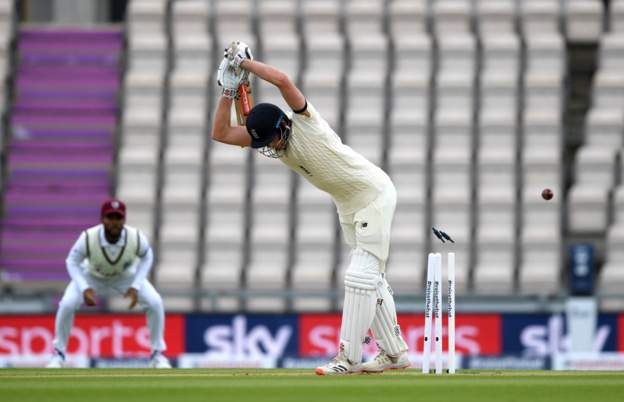 Posted at 14:1014:10
With just the 10th delivery of the day, we have a wicket.
Posted at 14:1814:18
Rain stops play
Eng 1-1
The first runs for England as Burns flicks a length ball down towards a short fine-leg.
Oh dear, that drizzle, it's back.
And ... the players are heading off.
Not much changes does it!!!